The 2021 Subaru Love Promise Community Commitment Award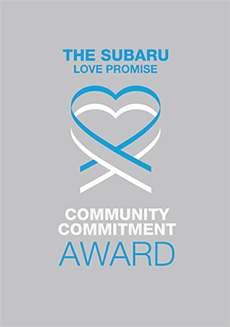 We've been nationally recognized for our dedication to our community and the Subaru Love Promise.
We're honored to receive the 2021 Subaru Love Promise Community Commitment Award. This award nationally recognizes Subaru retailers who are making the world a better place while demonstrating an outstanding commitment to supporting passions and causes in local communities. These efforts are focused in important areas such as the environment, community, health, education, and pets.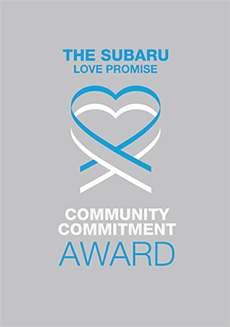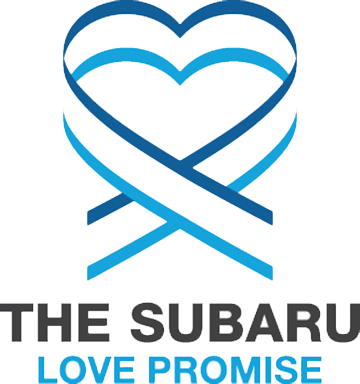 What is the Subaru Love Promise?
Subaru and our retailers believe in making the world a better place and the Subaru Love Promise is our vision of respecting all people. This is our commitment to show love and respect to our customers and to work to make a positive impact in the world.
How is Beechmont Subaru dedicated locally to the Love Promise?
Our Love Promise is to the under privileged children and their families in and around our great community. Making it possible for many of these children and their families to experience the NFL first hand, with the help and support of our Cincinnati Bengals. From a special training camp meet and greet to the attending of NFL games this season, this is just one way Beechmont Subaru is giving back to the community through the Cincinnati Bengals MVK (Most Valuable Kids) Program.
Cincinnati Bengals MVK Program
Love Promise Stories from Beechmont Subaru
Subaru and Beechmont Subaru believe in making a positive impact on the communities in which we live and work. We uphold that belief through our Love Promise Community Commitment. Every month, we select inspiring stories from customers and partners from around our area who strive to support our collective commitment and feature them here
Children's Home of Cincinnati Thanks You! - Contact U
The Children's Home is honored to once again be part of our friend and partner's at Beechmont Subaru Share the Love event! Last year these amazing folks, along with help from supporters who purchased vehicles at this location, raised funds that directly supported at-risk children and families!
---
Free Pet Adoptions, thanks to Beechmont Subaru. - Contact U
Hi, my name is Katniss and I was at the Clermont Animal CARE Humane Society but found my own human snuggle buddy with a free adoption thanks to Beechmont Subaru and the Share The Love Event! I'm now loving my life at my forever home.
---
Beechmont Subaru Teams with Freestore Foodbank - Contact U
Through the Subaru Love Promise, a commitment to support our communities, Subaru and its retailers across the country are making a donation to provide 50 Million Meals to @FeedingAmerica. This Pandemic has left many people out of work and unable to feed themselves or their families. Beechmont Subaru has donated 85,469 meals to the Freestore Food Bank. In the Greater Cincinnati Area, Subaru has donated 334,377 meals.
---
Beechmont Subaru Helps Bonded Pair Get Adopted! - Lee Ann L
Chaos and Egan came to Clermont Animal CARE Humane Society in Batavia when their family could no longer care for them. They had horrible skin infections and very little fur. It became clear very quickly that they were bonded, meaning that they would emotionally and mentally suffer if separated. We got to work on figuring out what was going on with their skin condition and determined that it was an allergy. So, we placed them on a special diet and their skin began to heal and their fur to grow back slowly. In the meantime, they won the hearts of both employees and volunteers with their quiet and calm demeanor and their desire for love and attention - both of which were provided in abundance. As their skin condition became manageable, we took them to adoption events in the hopes that their special family would find them. Finally, a shelter is not a calm or restful place for any animal (no matter how hard you try), so we found a foster home for them. And that foster parent found a forever family for them! Bonded pairs are difficult to adopt - the adopter takes on double the expenses than they would usually. Bonded pairs on a special diet and with medical issues are even harder. Beechmont Subaru's sponsorship allowed us to waive the adoption fee for Chaos and Egan, which helped tremendously in getting them adopted. The overall sponsorship of Beechmont Subaru did more than just help individual animals, though. It helped to off-set the food and medical expenses that our shelter regularly incurs and seldom makes up for with adoption fees. It is thanks to sponsorships and donations from individuals and companies like Beechmont Subaru and Subaru of America that we have been able to successfully transform Clermont County into a no-kill community for the past 3 years. Thank you so much for loving pets and supporting local organizations that love and care for them too!
---
Subaru breathes life into child therapy - Steven W
Subaru is a Children's Home partner who recently made a generous donation that will help ensure families have access to our programs either in-person or with our tele-health capabilities. A behavioral health services specialist at Best Point Behavioral Health by The Children's Home has instituted bibliotherapy delivered via our telehealth to provide care for her clients while staying in compliance with social-distancing requirements due to COVID-19. Bibliotherapy is a treatment in the mental and behavioral health community that uses literature, pictures and storytelling to augment other forms of therapy. It's especially useful for younger children and adolescents. The unique remedies like bibliotherapy are made possible by friends of the organization who support the vulnerable children and families of the Greater Cincinnati community like Subaru. ."Innovative therapists and methodologies of treatment don't happen without the support of generous neighbors like our friends at Subaru, whose donation is helping to fuel our mission of service," said Roderick Hinton, chief administrative officer of The Children's Home. "These programs are changing the lives of vulnerable children in Greater Cincinnati and we're truly thankful for the generous community supporters who have aligned themselves with our cause."" Bibliotherapy guides children through an imaginative journey to gain an understanding of emotions," said Jennifer Zavadil-Ryan, behavioral health services therapist and licensed social worker with The Children's Home. "It offers healing and aids in children being able to express their own emotions directly or through the characters in the story." The tool Zavadil-Ryan is using is one she calls "The Worry Monster." "The idea behind the Worry Monster is that children have a lot of worries and often do not have the words to express them," she said. "With the Worry Monster, I teach the concept of containment and a way of letting our worries go or a way to set worries aside rather than ruminating on them." Zavadil-Ryan said when talking with one of her clients, she chooses a story that fits the specific needs of the child. Then she shows the child the worry monster she made and encourages him or her to make their own worry monster in time for their next session. "When they have worries, they can draw or write their worries on paper and let the Worry Monster 'eat' their worries and fears away by putting them in the monster they made," she said. "The monster helps them understand that even if they cannot extinguish the worry permanently, by drawing or writing it, and placing it in the monster, the monster can hold onto that worry for them." "Bibliotherapy is a great way to bridge the communication gap that's a very common challenge in treating younger clients," said Debbie Gingrich, vice president of behavioral health at The Children's Home. "Young minds can often illustrate their feelings with role play, pictures and story-telling when they are trying to communicate with adults. Jennifer's 'Worry Monsters' are a great tool and especially useful when we're treating clients through different vehicles like telehealth." Zavadil-Ryan said her Worry Monsters are especially useful when treating clients via a distance treatment model. One of her young clients was coloring a "Feelings Monster" that went along with a story Zavadil-Ryan was reading during a treatment session. The monster and the coloring activity helped the child stay focused during a telehealth video conferencing setting. "When he picked the worry monster to color, he began talking at length about the numerous fears and worries he had, which was incredibly insightful," she said. "It was a powerful session that ended with the teaching of the worry monster and him beginning to develop his own worry monster."I'm not sure it would have occurred without it being on telehealth," said Zavadil-Ryan. Ideas for making your own worry monster can be found here.To learn more about the services and programs offered by Best Point Behavioral Health by The Children's Home, visit tchcincy.org.
---
Beechmont Subaru Loves to Care - Christina B
On July 22nd, 2019 Bill Wesley and Abby Feldkamp from Beechmont Subaru and Christina Bold from the Tri-State Chapter of The Leukemia & Lymphoma Society delivered 80 blankets and 50 craft kits to the children at Cincinnati Children's Hospital. Accepting these gifts of warmth and support were Sara Coyle, Amy Klein, and Jane Hollenbeck from Cincinnati Children's Hospital. Each expressed gratitude on behalf of the patients they serve, noting that this type of expression of support can be all it takes to turn around a patient's day. LLS truly appreciates Bill, Abby, and all the staff at Beechmont Subaru, for demonstrating that Subaru truly does LOVE TO CARE!
---
Encouraging kids to Dream Big with MVK! - Sherri F
Thank you Beechmont Subaru for your continued support of Most Valuable Kids (MVK) during the Share the Love Event. Because of your generous support, MVK has been able to expand our services to meet the growing needs in our community associated with childhood poverty. This includes the creation of extra-curricular experiences that, for the majority of kid-focused, non-profit agencies in our community, save them critical dollars to focus on other areas of need (70 % state MVK saves them money/impacts their bottom line In 2018, your donation provided 22,747 at-risk kids in our community with the opportunity to enjoy an experience they would otherwise be unable to afford. These experiences reward hard work, strengthen relationships, enhance self-esteem and encourage kids to dream big! From the magic of a live performance at a theater to great seats at a sports event, MVK and Subaru understand the importance of creating childhood memories. Additionally, MVK creates programs that introduce kids to jobs, healthy eating, exercise, race/police relations and female empowerment with our very own Girls with Pearl's program at eight schools. Our impact is best said in the words of a teenage recipient, "Thank for making my birthday the most valuable memory that I will ever have. Words cannot express how much it meant to me. I will cherish that moment for the rest of my life. By receiving tickets to the theater, I saw kindness that sticks with people forever. I also grew closer to my aunt and developed a deeper love for the arts. I have never felt more appreciated in my life." Thank you Beechmont Subaru, your donation to a small non-profit like ours is making a huge impact -- we couldn't do it without you!
---
Spreading Hope, Love & Warmth to Kids with Cancer - Christina B
On June 14th, Bill Wesley and some of his team from Beechmont Subaru, along with representatives from LLS, delivered blankets, craft kits and messages of hope to the cancer patients at Cincinnati Children's Hospital Medical Center. Every Subaru delivery is important and special but delivering hope, love, and warmth to children is especially meaningful. And what made this delivery even more special is that Annie, a 12 year Non-Hodgkin's Lymphoma survivor, who was once a cancer patient and is now a nurse at CCHMC, was there to help accept the donations on behalf of the hospital. She also happens to be the sister of LLS staff, Sara, who was there as well! Annie and her family know first hand what it's like to be on the receiving end of such generous donations and how much positivity it can bring to a very difficult journey. So thank you very much Beechmont Subaru - we love your Subaru Loves to Care program and are so grateful for all you do to help spread hope, love, and warmth to those fighting cancer.
---
Providing comfort and warmth to kids with cancer - Roseann H
The Tri-State Chapter of The Leukemia & Lymphoma Society is proud of its Loves to Care partnership with Beechmont Subaru. On July 12, Darryl Russell, General Manager of Beechmont Subaru, joined with LLS representatives to deliver 80 warm blankets and 10 craft kits to cancer patients at Cincinnati Children's Hospital Medical Center. Logan, leukemia survivor and LLS volunteer, and Anna Kuertz, Donor Relations Coordinator for CCHMC (as well as a Subaru owner/enthusiast!) were on hand to accept the donation on behalf of current patients. Later that day, mother of another honored hero, Auden, a young boy currently in treatment for T-Cell Acute Lymphoblastic Leukemia, sent us his photo - all smiles! - as he snuggled with his new blanket. Thank you, Darryl, and the rest of the Beechmont Subaru team, for your support of LLS and pediatric cancer patients. We are truly grateful for your kindness toward our youngest warriors!
---
Subaru and NWF Loves the Earth - Alexandra M
No stories yet! Plants take time to grow and bloom. The students are very excited though!
---
An old, stray, blind lab's major comeback story - Ross B
This is Kiefer. He's blind. When most people meet him now, they don't realize he's blind until he runs into their leg or I inform them. He was rescued and taken in by a wonderful non profit called Cincinnati Lab Rescue (CLR). At this point this old black lab got his new name, Kiefer, and it was discovered that not only was he blind from cataracts in both eyes, but he had glaucoma causing extreme pain in both eyes. A woman named Sarah was kind enough to foster this greying old lab. At the time he was considered a hospice case. He was losing weight fast, not responding well to medication, and needed a double enucleation (eye removal) to relieve the glaucoma - which he may not even recover from. This is when I met Kiefer. I knew the first time I saw him that he was spending the rest of his life with me. I offered to pay for the surgery as a donation to CLR. I picked Kiefer up from the vet the day he had his surgery. Head shaved, eye sockets stitched shut, but still walking with a pep in his step and wagging his tail when I got there. Sarah met me at the vet that day, and we discovered we both drive white Subaru Impreza wagons! Today, Kiefer's fully recovered, gained 25 lbs and walks around the house and at parks like he has 20/20 vision. He is an inspiration to myself and every single person he meets. He inspired me to volunteer and foster other labs in need at Cincinnati Lab Rescue.
---
Giving Back to the Community - Kathy G
I think it's a great gesture for Beechmont Subaru to be associated with a such good organization and to provide a little love and joy to these children.
---
Thank You Beechmont Subaru - Sherri F
Beechmont Subaru has been an important partner of Most Valuable Kids of Greater Cincinnati (MVK). MVK is a non-profit agency that connects underprivileged kids with donated event tickets and experiences as a way to reward and motivate them to overcome significant life challenges. MVK collaborates with more than 80 non-profit agencies, providing them with once-in-a-lifetime experiences that are used as rewards and incentives for the kids they serve. In 2014, Subaru teamed up with MVK and the Cincinnati Bengals to provide 20 kids/chaperones with tickets to every home Bengals game. In addition to the tickets, MVK kids were seated in a special section, received t-shirts and hats and were featured on the Jumbotron! To make this experience even more impactful, MVK created an incentive program that encouraged the kids to "Share the Love" in their community in order to be rewarded with the tickets. Thanks to Beechmont Subaru, in addition to these experiences, MVK received two generous donations to assist in our continued efforts to provide for agencies that serve kids in foster care, living in homeless shelters, teens living in rehabilitation facilities, mentoring programs and schools who serve kids living below the poverty level. Thank you Beechmont Subaru for your generous support of MVK and the deserving kids in our community!
---